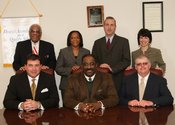 Cleveland School District Board of Trustees and Superintendent
Board Policy Manual
Meeting Dates and Times
The Cleveland School District Board of Trustees meets the second Monday of each month in the administrative office building at 305 Merritt Drive. The board meetings begin at 6:00 p.m.
Date and time are subject to change and will be posted accordingly.
Monday, March 30, 2015
Special Board Meeting
Time: 6:00 p.m.
Reasons:
· Construction Bid for Cypress Park and Pearman
· District Salary Schedules
· Cowan v. CSD
· Waived inclement weather days
Location: Cleveland School District Central Office
Thursday, April 9, 2015
Regular Monthly Meeting
Time: 1:00 p.m.
Location: Cleveland School District Central Office