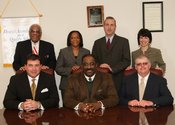 Cleveland School District Board of Trustees and Superintendent
Meeting Dates and Times
The Cleveland School District Board of Trustees meets the second Monday of each month in the administrative office building at 305 Merritt Drive. The board meetings begin at 6:00 p.m.
Date and time are subject to change and will be posted accordingly.
SPECIAL CALLED MEETING SCHEDULED FOR
Wednesday, March 26, 2014 at 12:00 noon
District Central Office
Reasons(Tentative):
· RES Contract Approval (Waste Management)
· Bid opening for Technology Services
REGULAR MONTHLY MEETING SCHEDULED FOR
Tuesday, April 8, 2014, 6:00 p.m.
District Central Office